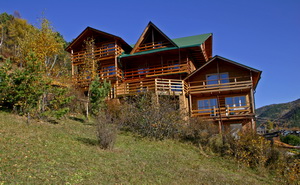 "BAIKAL CHALET LISTVYANKA" is a reasonable price accommodation for inquisitive travellers at lake Baikal, built in the traditional Russian wooden architecture style. It is situated in Listvyanka settlement, 750-800 m up valley from the lake, surrounded by gardens and cabins of the local people. A spectacular view to the Lake Baikal's blue mirror opens from windows of the lodge. Lovely hills with silver birch, pines and larch trees start beyond our garden. It's a great place to admire the outstanding nature of the greatest lake, feeling real Russian countryside atmosphere.

"Baikal Chalet" is a good quality and budget friendly accommodation open all year around. There are thirteen comfortable twin rooms with WC, bathroom, hot and cold water. All rooms with the view to the lake Baikal. Breakfast is included and on your wish traditional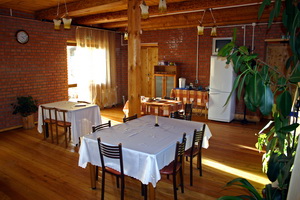 Siberian lunch and dinner, with Baikal omul fish, are served. Spacious dining room and a balcony welcome you for a cup of tea or a sit outside with a great view to the lake. The harbor, bus station, cafe, souvenir shops, restaurants and pub are in 10 minutes walk from the lodge. The friendly staff will support you with tourist information and help to organize your activity around Listvyanka. You can also look through or buy maps and post cards.
Good discounts from October to April. Enjoy our hospitality and you always welcomed !


Address : Listvyanka, 75 Gudina str. One hundred meters north from the Listvyanka harbor and the bus station along Baikal, left turn and 800 meters up the street.




Baikal Chalet Koty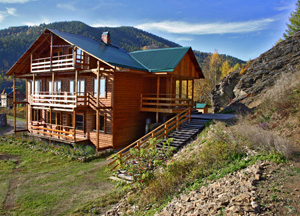 "BOLSHIE KOTY CHALET" is located in Bolshie Koty village 20 km north from Listvyanka. The lodge build in 2005 out of siberian pine logs combines the simplicity and traditions of Siberian wooden architecture and comfort of the modern house. There are ten twin rooms with the balcony, shower cabin and WC in the room. Great view to the lake from all rooms, spacious dining room, superb cuisine and traditional Russian banya (sauna) are the most remarkable advantages of the Koty Chalet. Peaceful atmosphere, bright colors, forests full of mushrooms and wild berries, sunsets over the great lake will take your heart forever.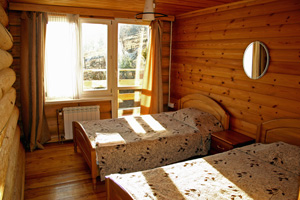 Poor tourist infrastructure gives you limited possibilities to dine and stay overnight in the village. "Bolshie Koty Chalet" is one of the best options to enjoy the marvelous place with comfort and pleasure. There are 10 twin rooms with shower, hot and cold water, W/C. All rooms with balconies and view to the lake. Good location, friendly family, siberian cuisine, bikes for rent, Russian saune. Joyous walks along the shore and into the valley to see the old drag, small Baikal Museum, majestic viewpoint.

Address : 10 Podgornaya str, Bolshie Koty. On the left bank of the Koty river, underneath the hill slope, 150 meters from the lake.